LOUISVILLE, Ky. (WDRB) — Twelve business and community leaders are among the first appointees making up a board that will oversee a partnership designed to bring new life to west Louisville.
Among the members are Louisville Urban League President and CEO, Sadiqa Reynolds, Metro Council President David James, and Republic Bank CEO Steve Trager.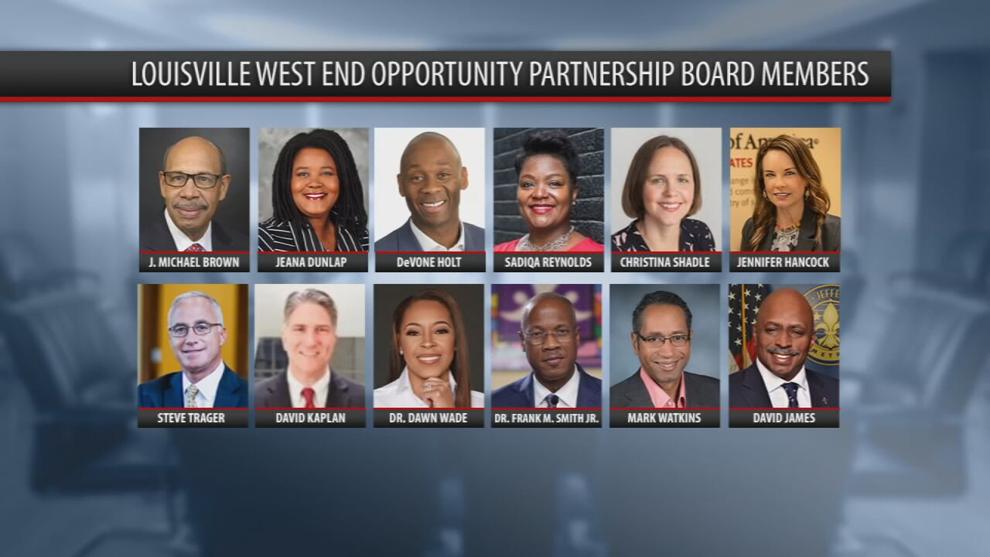 Other members include:
J. Michael Brown, Governor's Executive Cabinet secretary
Jeana Dunlap, urbanist and strategic advisor representing the NAACP
DeVone Holt, vice president of external affairs at Goodwill of Kentucky, representing One West
Christina Shadle, director of investment at the Louisville Urban League
Jennifer Hancock, CEO of Volunteers of America
David Kaplan, attorney at Kaplan Johnson Abate & Bird LLP
Dr. Dawn Wade, chief strategy officer at NIMBUS, president and CEO of EOS Strategic Solutions
Dr. Frank M. Smith, Jr., executive vice president of Simmons College of Kentucky
Mark Watkins, vice president and chief operating officer of University of Louisville
Eight of the members were appointed by Gov. Andy Beshear. Louisville Mayor Greg Fischer, University of Louisville President Dr. Neeli Bendapudi, Simmons College of Kentucky President Dr. Kevin Cosby and the Louisville Metro Council each appointed one member, according to a news release from Beshear's office. 
The team will oversee the West End Opportunity Partnership and the money coming in from the new taxing district by choosing how to reinvest it back into the community.
Officials say the goal of the partnership, and new TIF district, is to stabilize and improve homeownership and economic development in Louisville's west end. The district covers nine neighborhoods: Parkland, Shawnee, Park Duvalle, Russell, Portland, California, Chickasaw, Park Hill and Algonquin.
As part of the new opportunity zone, 80% of new taxes collected in the district would stay there. 
In naming the 12 board members on Thursday, Beshear's office said the initial 12 board members must choose nine other community members, one from each neighborhood in the new TIF district, to round out the board. Beshear will make appointments to the West End Louisville Advisory Council, a subcommittee that will work with the partnership board.
The taxing district went into effect on Thursday, July 1. It also includes protections for existing homeowners against rising prices. 
Related Stories:
Copyright 2021 WDRB Media. All Rights Reserved.