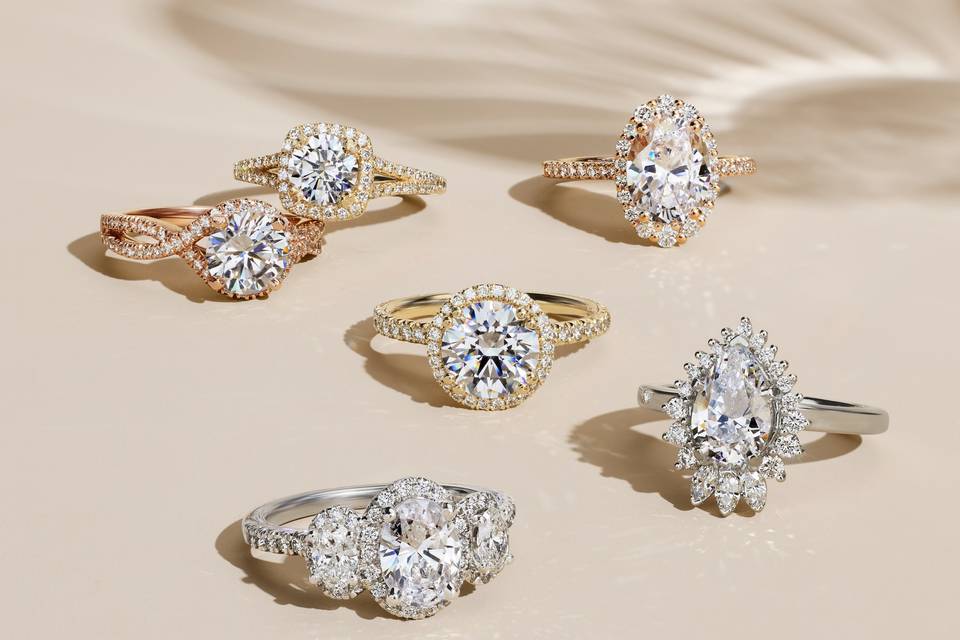 Before buying an engagement ring there are factors to consider since engagement rings are to be made special according to the preference of the wearer. Shopping for an engagement ring requires time and effort since there are a lot of choices you can see. Know more about the most common ring setting and styles to make your shopping easier.
5 Most Popular Styles of Engagement Ring Settings
Diamond Solitaire
Since diamonds are the most commonly used center stone for engagement rings, diamond solitaire is favored by many. Diamond solitaire engagement rings may look simple but make the center stone stand out, which means it makes the stone sparkle more and that's how diamonds work when getting an impression from anyone who sees it. The solitaire setting is perfect for a round diamond which is the most common shape for an engagement ring. Together they make a perfect combination.
Pave Settings
Pave setting is accessorizing part of your ring band or throughout the band with smaller diamonds. This style can make your ring appear more glamorous, plus having more diamonds make your ring sparkle more. Pave settings make your ring more eye-catching.
Three-stone Rings
If you want your ring to be unique you can choose the three-stone ring. Three stone rings have a meaning depending on what meaning you would want to convey to your partner. In designing a three-stone ring, the extra two stones can be placed beside each of the center stones. The side stones should be one size smaller than the center stone and one color grade lower.
Halo Settings
In halo settings, the center stone is surrounded by smaller stones. This effect makes the center stone bigger and more sparkly. Halo settings can also be modified to make it into more stunning styles. If your partner wants to have more stones on her ring then go for halo settings.
Bezel Setting
This setting can make your diamond more secured since it is enclosed in metal. The sparkle of the rings is focused in the center and this type of setting is ideal for women with an active lifestyle since the diamonds are secured and damaging it will be lesser. Bezel settings can make the durability of your ring the highest level.
What Is the Most Popular Ring Setting?
Solitaire settings are preferred by many. They are simple and yet fit any personality. Engagement rings should be made according to what matches the wearer's preference. If you are not sure about their preference then a solitaire setting can be a perfect choice. Solitaire may be a common design but still, most women love it.
What Is the Most Secure Engagement Ring Setting?
A full bezel setting can secure your diamond 100%, it may affect the brilliance of the rings but will protect the stone from damage and chips. Since the center stone and accessory stone, if there are any, will be enclosed in metal then it means they can not be easily removed.
How to Choose a Ring Setting?
When choosing a ring setting, knowing the preference of the wearer is important. As a buyer, being familiar with the available settings can also help plus work with your jeweler. Some settings can be combined to create a more stunning design. Know if your partner wants something simple or complicated in this way you can decide which settings to focus on. For instance, if she wants it simple then a solitaire setting will be ideal but if she wants it to be more intricate then a vintage setting can be a good choice.
Knowing the top 5 most popular styles of engagement ring settings can help you decide which one to focus on when choosing an engagement ring for your partner. Always make a point to consider their preferences then match it with the recommendation of your jeweler. Most women want unique engagement rings as well as trendy ones. Setting can help you impress your partner more and can enhance the appearance of your center stone. Be prepared by getting familiar with the setting of rings before going to the jewelry store, this way you can explain to your jeweler better what setting you would want for your ring.